Order from Caos 2
A downloadable game for Windows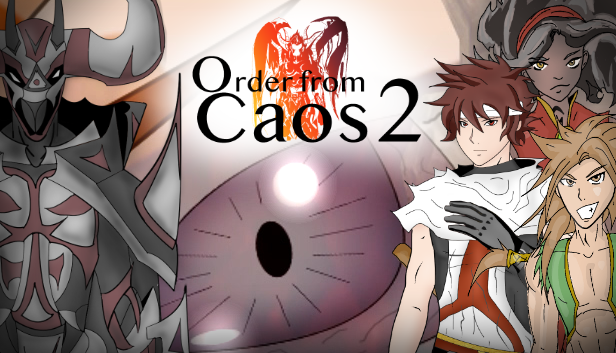 Order from Caos 2 is a pixel art turn-based RPG, created and developed by Renan Barreto from the White Vortex studio. The journey of Order from Caos 2 is unique and has more than 20 hours of gameplay, dozens of sidequests, items, special moves, and many puzzles to solve. Enemies walk across the maps and there are no random encounters. The players will walk through forests, cities, beaches, islands, temples, secret dungeons, hidden cities and will fight powerful creatures. The players will have a lot to do in the game if they don't want to just follow the main story.
Order from Caos 2 has nothing to do with the events or characters shown in the first game in the series.

Order from Caos 2 tells the story of Thomas, a man who lost his family, murdered by a mysterious and cruel Knight of the Bratania Empire, known by the name of Asmodeus. Thomas embarks on a journey of revenge, vowing to destroy his most merciless enemy. However, there is one detail that could change everything, his family might've simply never existed at all. Haunted by both possible realities, Thomas needs to understand what is behind all this tragedy to define his future that intertwines with the future of all humanity, even if it is about him going to hell.


There are six playable characters in the main party. All of them have motives to fight the evil that is on the horizon.

Thomas: the protagonist of the story seeks revenge for the death of his family.
Miguel: Thomas' amusing friend has magical powers and tells a joke or two every now and then. He has the power to summon creatures in battle.
Daena: a strong woman who is tired of having to prove something to the people of her town.
Alicia: a sweet girl who wants to put an end to the atrocities committed by the Empire of Bratania, which oppresses her small town.
Sigmund: a man whose broken heart may never return to its original form. A strong warrior with medicinal knowledge.
Rob: a mighty warrior with a strong sense of justice, but a troubled past.
Together, they will fight ghosts from the past, armies of enemy Empires, beings from other dimensions, and even their own personal beliefs.

You can walk, run, jump onto certain places and even get in the water.


To be able to upgrade weapons and evolve the status of team members, the players will need to find Lumeni Points, luminous spheres scattered around the world but in another dimension. It is possible to find Lumeni Points in many areas of the game.

Each character has unique qualities and it's up to the players to position them correctly in the battle to get the best out of them. But beware. Some enemies can change the team's position mid-battle.

Each character has their own Skill Map. Each locked block can be opened in exchange for Lumeni Points. It is up to the players how to boost their characters. It can go the way of adding a new skill or opening the way to increase some stat of the hero in question.

"I've been developing this game for quite some time. So I hope you enjoy the free demo and have as much fun as I had making it. Developing games is a hard task but also an incredible journey."
Renan Barreto - White Vortex.
Site: https://whitevortex.com.br/orderfromcaos2/

DONATIONS:
To help with the development of the game and to be able to contribute to it, you can donate in one of the following ways.

Tier 1 (The helper)
Get a digital copy of the game;
Name in the credits;
No quantity;
Donate: 20 BRL or 5 USD;
Tier 2 (The citizen)
Get a digital copy of the game;
Name in the credits;
NPC named after you in the game;
200 units;
Donate: 50 BRL or 10 USD;
Tier 3 (The Past Hero)
Get a digital copy of the game;
Name in the credits;
Statue with your name in the Map Old Heroes Arena;
5 units;
Doe: 200 BRL or 45 USD;
Tier 4 (The Viridi)
Get a digital copy of the game;
Name in the credits;
An enemy named after you;
20 units;
Donate: 300 BRL or 55 USD;
Tier 5 (The Villain)
Get a digital copy of the game;
Name in the credits;
Boss named after you in the game;
10 units;
Donate: 500 BRL or 60 USD;
Tier 6 (The Last Hero)
Get a digital copy of the game;
Name in the credits;
The seventh main party character is named after you.
1 unit;
Donate: 2000 BRL or 500 USD;
Donate here: https://www.paypal.com/donate/?hosted_button_id=SYHABBDL35DNU
| | |
| --- | --- |
| Status | In development |
| Platforms | Windows |
| Author | White Vortex |
| Genre | Adventure, Role Playing |
| Made with | RPG Maker |
| Tags | 2D, Anime, Atmospheric, Indie, JRPG, Narrative, Retro, Singleplayer, Story Rich |
| Average session | A few hours |
| Languages | English, Portuguese (Brazil) |
| Inputs | Keyboard, Mouse, Xbox controller, Gamepad (any) |
| Links | Steam, Homepage, Steam |
Download
Click download now to get access to the following files:
Order from Caos 2 Demo
374 MB
Comments
Log in with itch.io to leave a comment.
hey is the steam ver diffent? or the same
Show post...

93/100 VERY GOOD
Hope this can bring some help to you, doing this for a while now as a new project for indie games to help out this community
Thank you, Zakaria. I feel humble by your video. I hope you enjoy the game when it is released.
I hope those who watch the channel can find your game enjoyable, those are the most important ;)